Diane Duane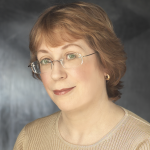 Diane Duane has been a science fiction and fantasy writer for nearly forty years. Her best known works include her long-running (since 1983) "Young Wizards" series — its tenth novel, Games Wizards Play, having been published in February of this year — and the nine bestselling Star Trek novels for which, among many other works, she was recently awarded the Grand Master / lifetime achievement award of the International Association of Media Tie-In Writers.
Her TV and film writing has included characters ranging from Jean-Luc Picard to Batman and from Siegfried the Volsung to Scooby-Doo. Her most recent such accomplishment is running Sean Bean around a postapocalyptic New York landscape in tight leather pants, in the SyFy miniseries The Lost Future. (She tried to leave Sean alive at the end, she really did, but sometimes things just don't work out…)
In her spare time Diane gardens, cooks, hangs out on Twitter and Tumblr, and studies astronomy, food history, and cat memes.