Love2Hate
We are delighted to have Love2Hate Demoing at Octocon2016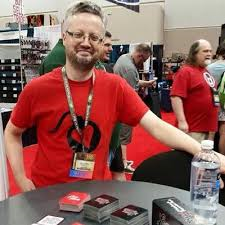 Colm Lundberg has been around the Irish game scene longer than some of its members have been alive, running cons (founding one) and charity auctions, and generally making a nuisance of himself. He has previously been involved in the industry as a volunteer coordinator and continues to demo many games with many hats, but he is considering intervention therapy. He lives in rural Co. Kerry in Ireland where, contrary to tourist signposts, there are no leprechauns.
He'll be at Octocon promoting his part game Love2Hate: A Party Game for Inappropriate People, which he designed by mistake and was, to his surprise, published by Green Ronin Publishing in 2015.  An expansion is also currently available for pre-order called Love2Hate: Politics because, you know, rich material/ easy target.
Colm will also have other products from Green Ronin Publishing for sale, including Fantasy Age RPG, Titansgrave (made famous by Wil Wheaton & Geek & Sundry), Mutants & Mastermind, A Song of Ice and Fire RPG (find out John Snow's intelligence score!) and Dragon Age RPG.
Green Ronin Publishing is a Seattle based company dedicated to the art of great games. Since the year 2000 Green Ronin has established a reputation for quality and innovation that is second to none, winning over 40 awards for excellence. For an unprecedented three years running Green Ronin won the prestigious GenCon & EnWorld Award for Best Publisher.
Come by and have a look and play a demo of Love2Hate!